Beside the Point: ACNB Bank Participates in NASDAQ Closing Bell Ceremony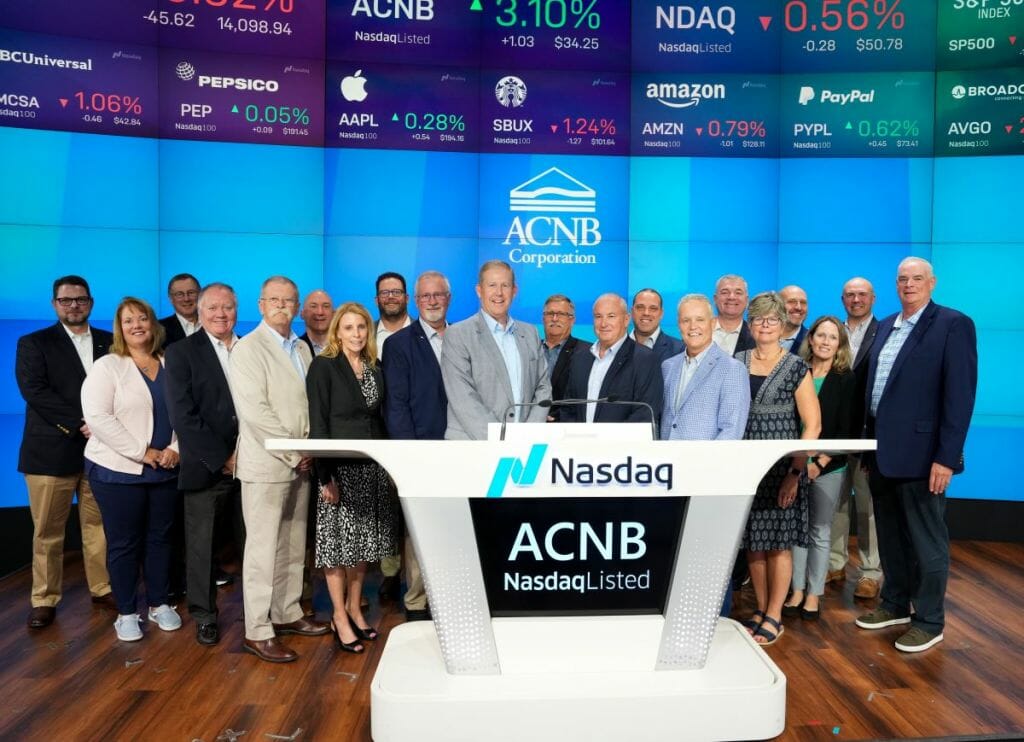 Members of the ACNB Corporation and ACNB Bank Board of Directors and Leadership Team traveled from Lincoln Square in Gettysburg, Pennsylvania, to Times Square in New York, to celebrate the company's history with NASDAQ and participate in the Closing Bell Ceremony held on Wednesday, July 26, 2023.
"I am extremely proud of our 166-year history in serving our communities and the growth we've experienced since formalizing our partnership with NASDAQ in 2010," said James P. Helt, ACNB Corporation President and Chief Executive Officer.
ACNB Corporation has celebrated many achievements over the past 13 years, including:
Opening the Spring Grove, Chambersburg, and South York Plaza Offices between 2011 and 2014.
Supporting Carroll County and Frederick County communities in Maryland through acquisitions in 2017 and 2020, respectively.
Changing the name of ACNB Corporation's insurance affiliate from Russell Insurance Group, Inc. to ACNB Insurance Services, Inc. and completing the acquisition of Hockley & O'Donnell Insurance Agency in Adams County, PA, in 2022.
ACNB Corporation has grown from $968.7 million in total assets at December 31, 2010, to a financial institution with $2.5 billion in assets at December 31, 2022. For additional information, visit acnb.com.
Beside the Point is a member spotlight opportunity reserved for Cumberland Valley Business Alliance members at the Advocate, Champion, Visionary and Stakeholder levels. If you're interested in upgrading your membership, please contact info@cvballiance.org.