CVBA Recognizes Business and Community Members for Achievements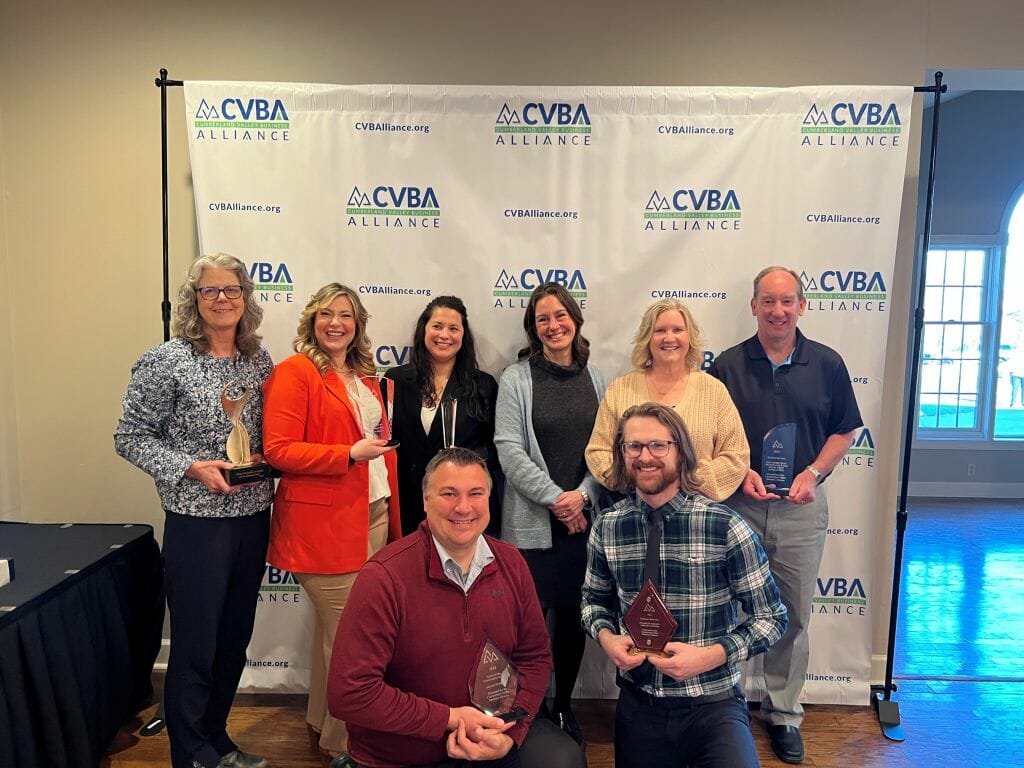 Nearly 250 business leaders and community members of the Cumberland Valley Business Alliance (CVBA) gathered to honor individuals and organizations for their outstanding achievements at the CVBA Awards Breakfast, sponsored by M&T Bank, this morning.
"We are honored to highlight the incredible work of our business and community leaders this morning," said Stephen Christian, president of the CVBA and Greater Chambersburg Chamber of Commerce. "Our award recipients are continually seeking to improve the quality of life in our community, and we are privileged to recognize them this morning."
The sold-out event hosted at the Chambersburg Country Club included seven awards and a keynote presentation by Daniel Di Martino of the Dissident Project. Di Martino is from Venezuela and founded the Dissident Project; the only speakers' bureau in the nation that sends young immigrants to high schools at no cost to teach students about the socialist regimes they fled. Di Martino recounted his early life in Venezuela and discussed how socialism in Venezuela reduced the country to a poverty-stricken nation.
Bonita Zehler, executive director of Luminest, accepted the International ATHENA Leadership Award, which was sponsored locally by Jennings Chevrolet, Buick, GMC and F&M Trust. The award honors an individual who exemplifies professional, community and personal leadership as well as someone who actively assists women in reaching their full leadership potential and/or personal and professional goals.
Zehler has been at the forefront of bringing 24 new, affordable, high quality homes to the county over the past 20 years. She has led the Franklin County Housing Authority to be recognized at the local, state and federal levels as an effective affordable housing organization. She encourages and supports women in leadership positions both at Luminest and in the region.
Zehler is a community development leader that gives back through leadership and civic engagement. This has included serving on the board from the United Way of Franklin County, Occupational Services Inc., Waynesboro Hospital, Waynesboro YMCA and Boys & Girls Club of Chambersburg/Shippensburg. She is actively involved in other community organizations as well.
Also presented during the ceremony were the following awards:
Spirit of the Community: Adam Donius
Adam Donius was recognized for his tireless and unselfish commitment to improving the quality of life in the Cumberland Valley. Donius is the owner of Chick-fil-A Chambersburg and partners with community organizations to give back ranging from donations and fundraising to career training and placement for special needs students. He is actively involved with community organizations including the CVBA, Greater Chambersburg Chamber of Commerce, Franklin Hospice and others. Donius believes business is about investing in others and enriching the lives of those he serves – truly the spirit of our community.
Innovator of the Year: Anne Schoenhofen, The Butcher Shoppe
Anne Schoenhofen was honored as the Innovator of the Year for the pioneering practices of The Butcher Shoppe, Big Oak Café and Grant Street Loft. This includes the innovative micro market program and seeking ways to support small businesses and the greater community in her business model. Schoenhofen is the third-generation owner along with her husband Leo.
Nonprofit of the Year: First Start Partnerships for Children & Families
First Start Partnerships for Children & Families was recognized as the Nonprofit of the Year for its innovations and community collaboration that has contributed to the prosperity of Franklin County. First Start provides early childhood education services and helps ensure local children receive a high-quality, free early childhood education that prepares them for success from kindergarten to adulthood. Annette Searfoss, CEO, received the award on behalf of the organization.
Event of the Year: Old Home Week
Old Home Week, hosted by the Greencastle Old Home Week Association, received the 2022 Event of the Year award. Last year's week-long event in August had 51 active committees and approximately 500 volunteers of all ages. Old Home Week began in 1902 and is hosted every three years to bring the community of Greencastle together with wonderful activities like fireworks displays, walking tours, car shows and class reunions. Garon Gembe, president of the Old Home Week Association accepted the award on behalf of the organization.
Employer of the Year: Franklin County Library System
The Employer of the Year award was given to Franklin County Library System for its vibrant culture of equity and inclusion, employee development and workplace policies. Since 2020, the Library has implemented Strategic Time where staff members are paid their normal rate to volunteer with local organizations. The Library has also implemented new parental leave policies and a 35-hour work week to enable better work-life balance for its employees to thrive. Andrew Vickers and Alice Elia received the award on behalf of the Franklin County Library System.
Emerging Business Leader: Amber Baskin
Amber Baskin was recognized as the Emerging Business Leader for her pursuit of career excellence while also making valuable community contributions. Baskin is the regional director of sales at Providence Place Senior Living for Chambersburg and Lancaster. She is an active member of the CVBA and looks for ways to give back by supporting or volunteering for First Responders Appreciation Day, PEO Club, Chambersburg Women's Shelter, Chambersburg Senior Center and others.
Special thanks to this year's CVBA Awards Breakfast sponsors:
Grand Sponsor: M&T Bank
Speaker Sponsor: UPMC
ATHENA Leadership Award Sponsors: F&M Trust, Jennings Chevrolet, Buick, GMC
Table Sponsors: 1st Ed Credit Union, ACNB Bank, Boyer & Ritter, LLC, Corning Credit Union, F&M Trust, HRG, Herbruck's Blue Springs Egg Farm, Keystone Health, LaunchUX LLC, Menno Haven, Orrstown Bank, Patriot Federal Credit Union and SEK, CPAs & Advisors
Patron Sponsors: American Print Consultants, Boys & Girls Club of Chambersburg/Shippensburg, Community State Bank, Cumberland Valley School of Music, Decorating Den Interiors, Franklin County Area Development Corporation, Letterkenny Industrial Development Authority, Newcomer Associates architecture + engineering, Occupational Services, Inc., Penn National Insurance, Providence Place Senior Living, REX Trailers, The Tide
The Cumberland Valley Business Alliance is a partnership between the Chambersburg and Greencastle-Antrim chambers of commerce. CVBA is the largest business advocacy organization in Franklin County with more than 850 members. It is committed to the prosperity of its members while enhancing the quality of life in the Cumberland Valley area. For more information, visit CVBAlliance.org.