Beside the Point: Community State Bank Welcomes New CEO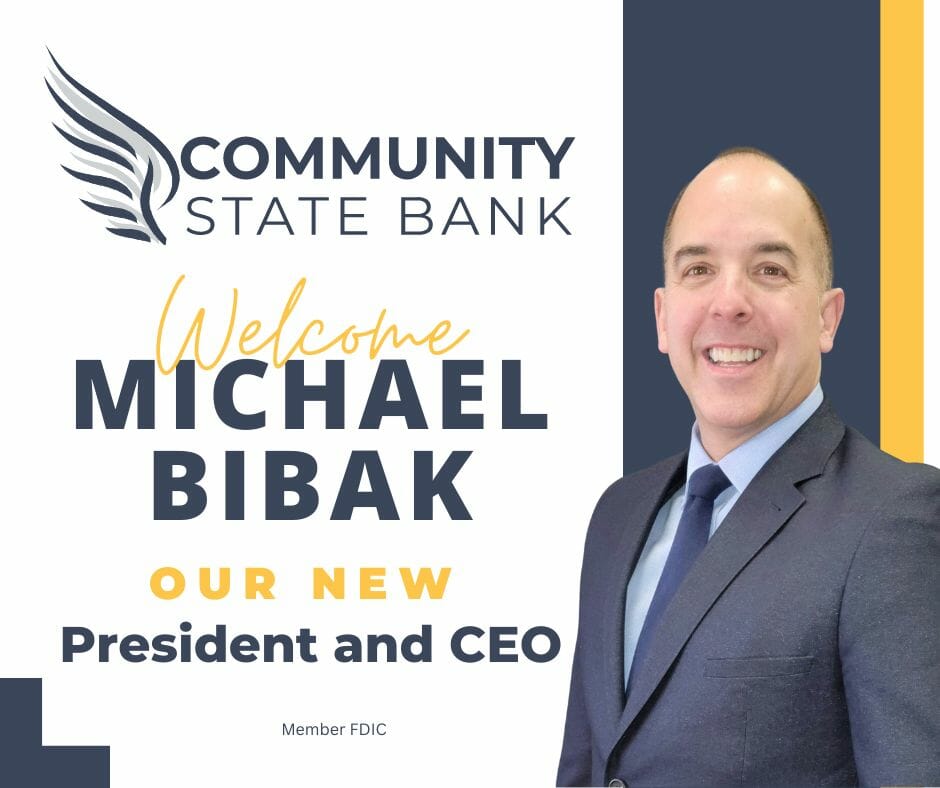 Community State Bank's Board of Directors is pleased to announce the selection of Michael J. Bibak to succeed Trudy K. Everhart as Chief Executive Officer. This announcement follows a months-long process led by a special committee formed by the Board to direct the search for Ms. Everhart's successor. Ms. Everhart plans to retire after assisting with the transition process.
"Mike comes to us with 35 years of experience holding various senior management and C-suite positions at regional and community banks throughout his career. With a focus on lending, sales, and employee development, he is dedicated to serving local communities and continuing Community State Bank's commitment to them. 
The strategic mission and vision for Community State Bank will remain the same and be achieved in a steady, conservative, forward-thinking manner. Mike's extensive banking experience and his energy and passion for community banking combined with great character was the leadership the Board was seeking." said Jessica Tice, Chairman of the Board of Directors.
Community State Bank's vision is to be the preferred independent, locally managed bank in all our markets. We accomplish this by treating our customers according to our core values to be fair: friendly, accountable, innovative and respectful. Only by engaging with our customers in this manner will we achieve our mission to enrich the lives of our customers and co-workers and elevate the communities in which we all live and work. 
Mr. Bibak attended The University of Scranton, earning a BS in Business Administration. He and his wife Erica reside in Mount Union, PA, with their Golden Doodle, Toby.
Ms. Trudy Everhart began her career with Community State Bank in 1980 while in high school. She excelled in every position she held and humbly accepted every opportunity presented to her. In 2012, she was named Chief Executive Officer. In her retirement, she is excited to spend time with her family, particularly her grandchildren, and traveling with her husband. The Board of Directors sincerely thanks Trudy for her loyalty and commitment to community banking during her 43 years at the bank and congratulates her on her retirement.
Click here to learn more about Community State Bank.
Beside the Point is a member spotlight opportunity reserved for Cumberland Valley Business Alliance members at the Advocate, Champion, Visionary and Stakeholder levels. If you're interested in upgrading your membership, please contact Jordan Nace at jnace@chambersburg.org.