CVBA Travel Club Announces Upcoming Tour Destinations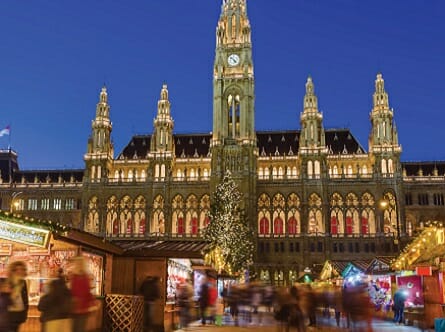 The Cumberland Valley Business Alliance (CVBA) is pleased to announce two upcoming trips to see the unforgettable European Christmas Markets and experience an exciting inter-island Hawaiian cruise.
Community members and friends are invited to join Kay's World Class Travel and Collette for the European Christmas Markets tour happening November 25 – December 4 in 2023. Travelers will set out on a grand holiday adventure through the winter wonderland of the Imperial Cities of Central Europe – Prague, Vienna and Budapest. Along the way, soak in the festive Christmas markets, enjoy traditional entertainment, sample local cuisine and glimpse the region's rich history.
Trip highlights will include Prague's Christmas Markets, Prague Castle, Train Ride to Dresden, Dresden's Christmas Markets, Vienna's Christmas Markets, Schonbrunn Palace, Viennese Candy Workshop, Bratislava, Budapest's Christmas Markets, Matthias Church and Fisherman's Bastion.
The CVBA Travel Club will head to Hawaii from March 9 – 16, 2024 for an unforgettable excursion with Dream Vacations. Travelers will immerse themselves in the culture, experience incredible landscapes and sample delicious cuisine during this seven-day cruise on Norwegian Cruise Line's Pride of America.
Cruise highlights will include visiting Kahului, Maui; Hilo, Hawaii; Kona, Hawaii; Nawiliwili, Kaua'i and Honolulu, Oahu. Travelers will also have an optional pre-cruise stay in Honolulu with other CVBA Travel Club members, if desired.
An information session with pricing information for the European Christmas Markets tour will be hosted at the Chambersburg Chamber, 100 Lincoln Way East in Chambersburg on Tuesday, March 14 at 5:30 p.m. The next informational session for the Hawaii Inter-Island Cruise will be at the Chambersburg Chamber on Tuesday, February 7 at 5:30 p.m. RSVP to either session at CVBAlliance.org/Events, email lkennedy@chambersburg.org or call 717-264-7101 ext. 206.
The CVBA Travel Club is an opportunity for local residents to enjoy unique group travel experiences with their neighbors to domestic and international destinations while supporting the business community. A portion of the proceeds from each trip supports the Cumberland Valley Business Alliance as well as the member travel agent. For more details, visit CVBAlliance.org/TravelClub.