Chambersburg Pickleball Tournament Results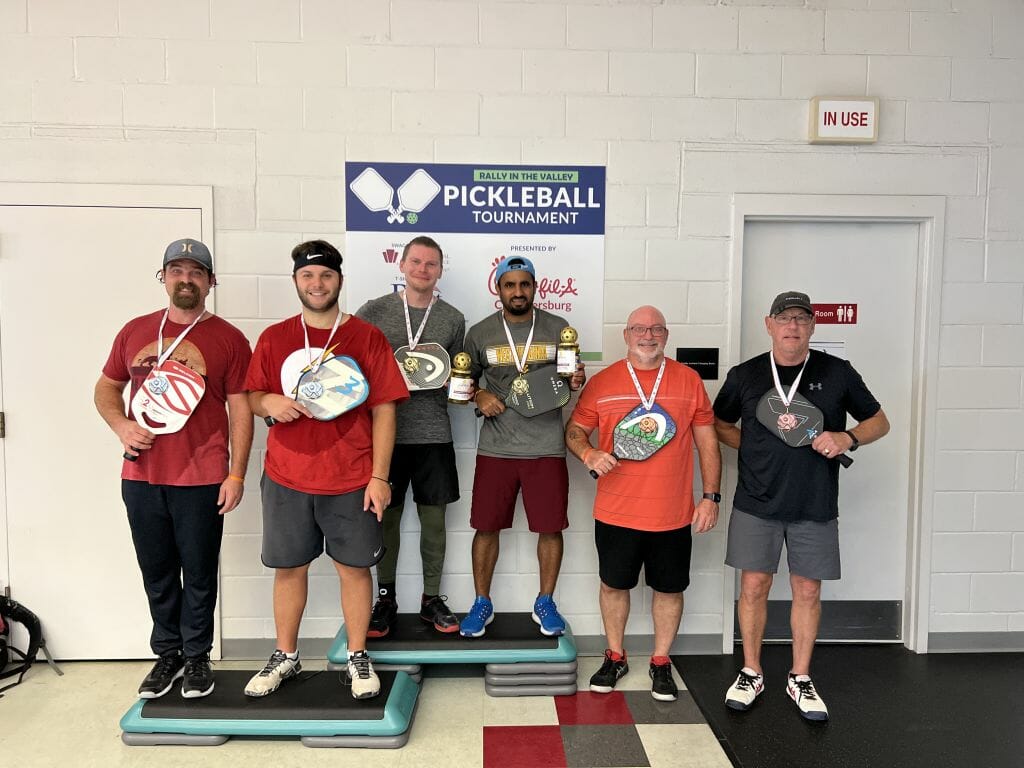 The Greater Chambersburg Chamber of Commerce in partnership with the Chambersburg Memorial YMCA hosted the first Rally in the Valley Pickleball Tournament over the weekend! Presented by Chick-fil-A Chambersburg, nearly 75 players competed in men's, mixed and women's doubles! Winners received medals for first, second and third place and the top winners in each category were awarded gift certificates to Ledo Pizza as well as the prized Golden Pickle Award presented by UPMC!
The winners in each category were as follows:
Men's Under 60:
#1 Braun / Rizik
#2 Simmons / Tesselli
#3 Enos / Ludwig
Men's Over 60:
#1 Bindl / Bartlett
#2 Lehman / Wadel
Mixed Under 60:
#1 Vargas / Braun
#2 MacGregor / Ludwig
#3 Shatzer / Enos
Mixed Over 60:
#1 Bindl / Bindl
#2 Taylor / Bartlett
#3 Peiffer / Ransom
Women's Under 60:
#1 Pitonyak / Kocher
#2 Lokie / MacGregor
#3 Gooding / Shatzer
Women's Over 60:
#1 Norris / Stevens
#2 Bindl / Taylor
#3 Eckerd / Peiffer
Thank you to those who attended and watched the players compete! Special thanks to these awesome sponsors: Presenting Sponsor Chick-fil-A Chambersburg; Swag Bag Sponsor Penn National Insurance; T-Shirt Sponsor Patriot Federal Credit Union; Golden Pickle Sponsor UPMC; Food & Beverage Sponsors: The Floor Trader Outlet and Ledo Pizza; Court Sponsors: Bartlett Tree Expert Company, SEK, CPAs & Advisors, Starr Insurance, SunnyHill Properties, Inc. and Wilson College; Pickleball Pals David Grant, Bill Kick and Empowered Cleaning.
For more information on next year's tournament, please email aschaeffer@chambersburg.org or call 717-264-7101.