Franklin County Community Foundation awards $70,340 in grant funding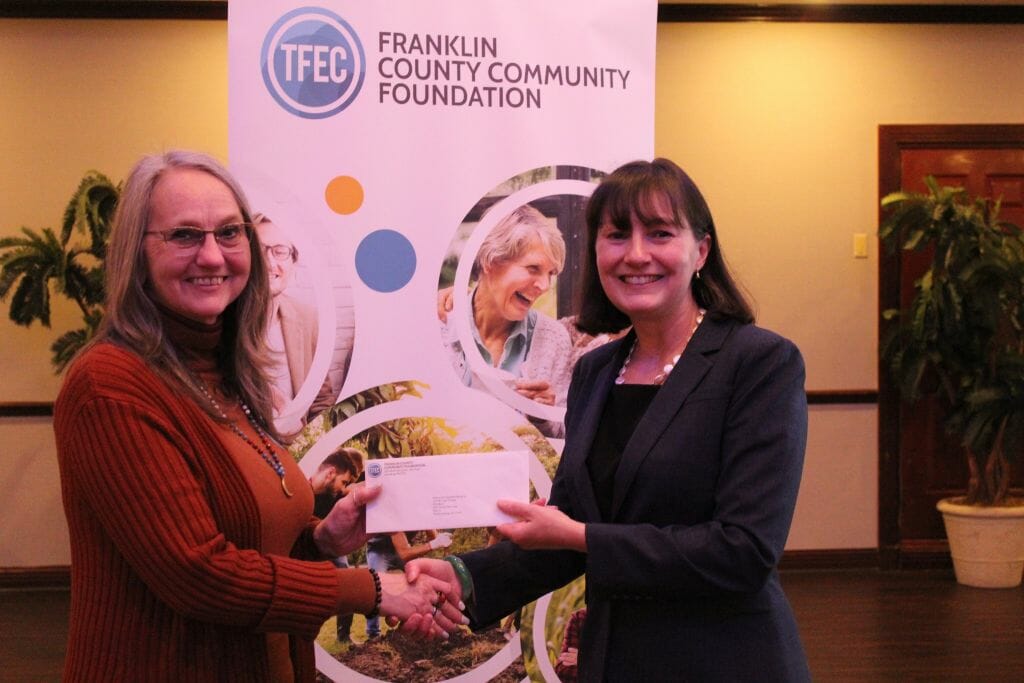 The Franklin County Community Foundation (FCCF) held its annual grantee reception recently at The Orchards Restaurant in Chambersburg. The event recognized the upcoming projects of 17 organizations in Franklin County that received grants through FCCF. In total, 17 organizations received $70,340 to be used in 2023.  
FCCF is a regional foundation of The Foundation for Enhancing Communities. Below is a list all 17 organizations, their funding amount and a brief description of their projects.  
Capitol Theatre Center Foundation | $5,192        
The Capitol Theatre's Young Playwrights Festival 2023 uniquely connects theater and literacy, inviting youth to have active voices in the arts. Funding allows youth to work with theater professionals as they direct, choose actors, and rehearse the play, bringing their original work to life!
Chambersburg Area Council for The Arts | $2,580 
Funding will support Wellness Through Art which will create free programs, workshops, and expert-led creative experiences that provide forms of Art Therapy to members of the Franklin County Community. This program will allow community members to access creative services that would help support their mental health and sense of well being.
Children's Aid Society-Southern District Church of the Brethren | $5,000               
Children's Aid Society (CAS) helps all children, regardless of their family's ability, to pay for services by using donations and charitable gifts to offset the difference between what a family can pay and the actual cost of services. The grant will help those who have suffered trauma/abuse, been bullied, been removed from their homes or lost a parent, and have a physical, emotional, mental, or developmental challenge.
Cumberland Valley Animal Shelter, LLC | $1,200 
Cumberland Valley Animal Shelter (CVAS) aims to promote responsible pet ownership and reduce uncontrollable animal breeding. CVAS aims to promote public awareness in the Spay/Neuter Clinic. This grant will support CVAS's mission of spaying and neutering pets to help reduce the overpopulation of unwanted pets.
Cumberland Valley Breast Care Alliance | $7,000              
If a community member needs a biopsy, Cumberland Valley Breast Cancer Alliance (CVBCA) gets them to a state-funded program for this service, along with emergency utilities, gas, food, medicine, childcare, and mastectomy supplies. This grant will help The MammaGift Project provide financial assistance for women and men without medical insurance to cover lifesaving exams.
Cumberland Valley School of Music | $6,800 
Cumberland Valley School of Music (CVSM) and First Start Partnerships for Children and Families (FSP) offers an Arts Integrated Preschool experience, where high-need and at-risk children between the ages of 3 and 5 receive an arts-enriched classroom experience. In September 2022, the program will expand with an additional classroom, offering the program in eleven classrooms daily.
Diaper Depot at Central | $7,000 
Diaper Depot at Central seeks to assist Franklin County families with babies and toddlers who have difficulty affording the costly item of disposable diapers. Funding makes it possible for families to register up to two children and each month may receive 50 diapers or 15 training pants per child and makes briefs available to any adults in need, free of charge.
Downtown Chambersburg Inc. | $1,000 
Funding will help support a community mosaic celebrating an outstanding local nonprofit, United Way of Franklin County, using the shared talents of 36 community artists from Franklin County. This portable community art installation will be shared at the downtown gallery for five weeks, at Chambersburg's largest one-day festival, and displayed at the local library monthly.
Employment Skills Center | $6,784 
This grant will help fund 4-5 Nurse Aide Training sessions over one year. Employment Skills Center training program will recruit, train, and help place qualified and skilled workers into frontline healthcare jobs that pay a good wage and provide career ladder opportunities.
Franklin County Legal Services | $1,200 
Funding will support Franklin County Legal Services' project: Meeting Basic Needs through Legal Services. This project facilitates the preservation of housing, family unity, livelihood, and other basic human needs for low-income residents of Franklin County, particularly refugees. These life-changing legal services will help individuals for whom a basic need is at stake due to a civil legal issue.
Habitat For Humanity of Franklin County | $2,000 
Habitat for Humanity of Franklin County is a powerful change agent for equitable community housing. This grant assists Habitat's show of compassion and gives a qualified family access to capital and affordable housing.
Penn's Youth Initiative | $7,000                 
Penn's Youth Initiative (PYI) uses the highly acclaimed REAL Essentials curricula suited for middle and high school students. This curriculum suite made possible by this grant is designed to help young people develop skills necessary to form healthy relationships, building a foundation for long-term success.
South Central Community Action Programs | $6,784 
The Gleaning Project strives for a more equitable and sustainable food system. Funding for this project will serve Franklin County individuals and families that face food insecurity. The project will provide fruits and vegetables for free to anyone who lacks access to local, fresh produce.
The Boys & Girls Club of Chambersburg and Shippensburg | $2,000 
The Boys and Girls Club of Chambersburg and Shippensburg (GCCS) serves several high-need communities in Franklin County: Chambersburg and Tuscarora. Funding will support the 2023 Positive Action program serving the region as a comprehensive, cohesive social-emotional learning curriculum that is proven to help children develop self-management skills and responsible decision-making.
Nicodemus Center for Ceramic Studies | $4,000                 
Nicodemus Center for Ceramic Studies (NCCS) reaches young people where they exist through its program Community Outreach: Youth. Working with ceramics offers youth an outlet for creative energy, skill building, storytelling, and self-confidence, and this program is purposeful in reaching diverse youth.
Waynesboro Community & Human Services | $4,000 
The Community Health Nurse Program is committed to providing quality in-home nursing services to the most vulnerable adult populations in our community: those who would benefit from such care but lack health insurance or other means to obtain it. The Community Health Nurse Program aims to improve client outcomes and reduce re-admissions to the hospital through regular home visits provided by a team of RNs and a Community Health Aide.
Wilson College | $800    
Every year (for the past three years), the nursing programs of Franklin County meet with senior nursing students to provide a collaborative learning experience focused on an area of healthcare need for the community. Funding will go toward The Collaborative Healthcare Day at Wilson College to address the unique healthcare needs of LGBTQ+ clients and to provide a healthy, respectful space for students' investigation, understanding, and best practices implementation of this patient population and their families.