CVBA Honors Cumberland Valley Area Young Professionals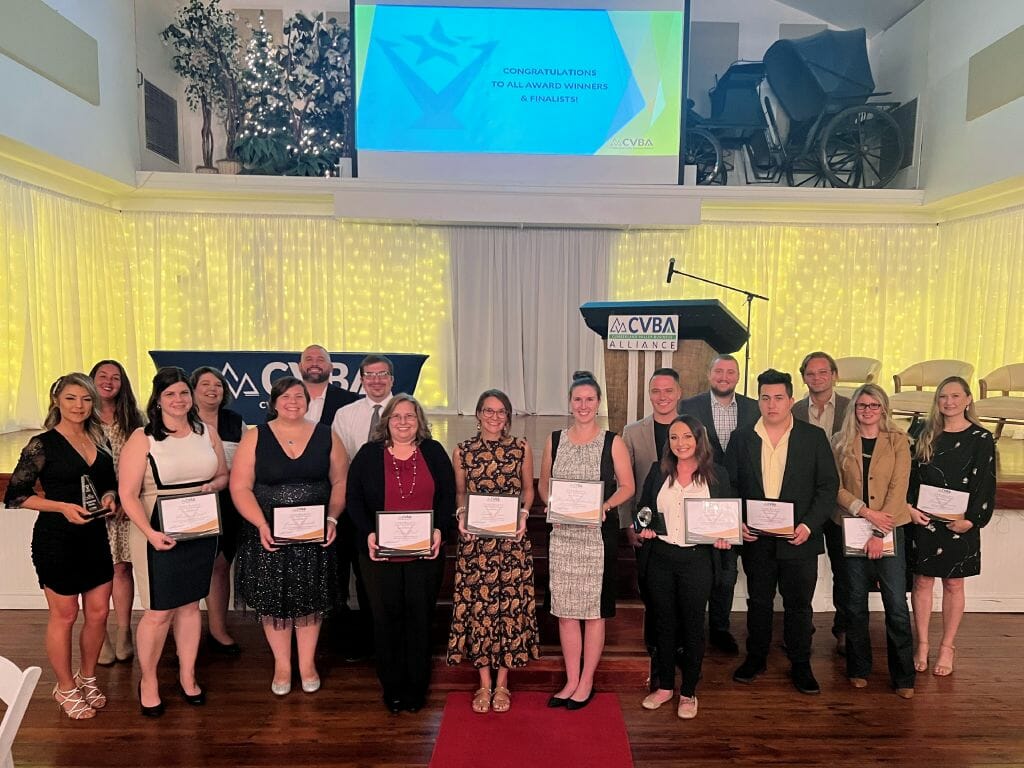 The Cumberland Valley Business Alliance honored one business and six young professionals for their dedication and achievements with more than 100 people in attendance at the second annual Young Professional Awards on September 15.
"We have exceptional young professionals in our community whose dedication, commitment and service is not only inspiring, but invigorating," said Stephen Christian, president of the CVBA. "It's truly an honor to recognize their remarkable accomplishments."
The banquet, held at Green Grove Gardens, included the presentation of awards in the following categories: ATHENA Young Professional Award, Educator of the Year, Young Professional Employer of the Year, Entrepreneur of the Year, Nonprofit Young Professional of the Year, Rising Star Award and Volunteer of the Year.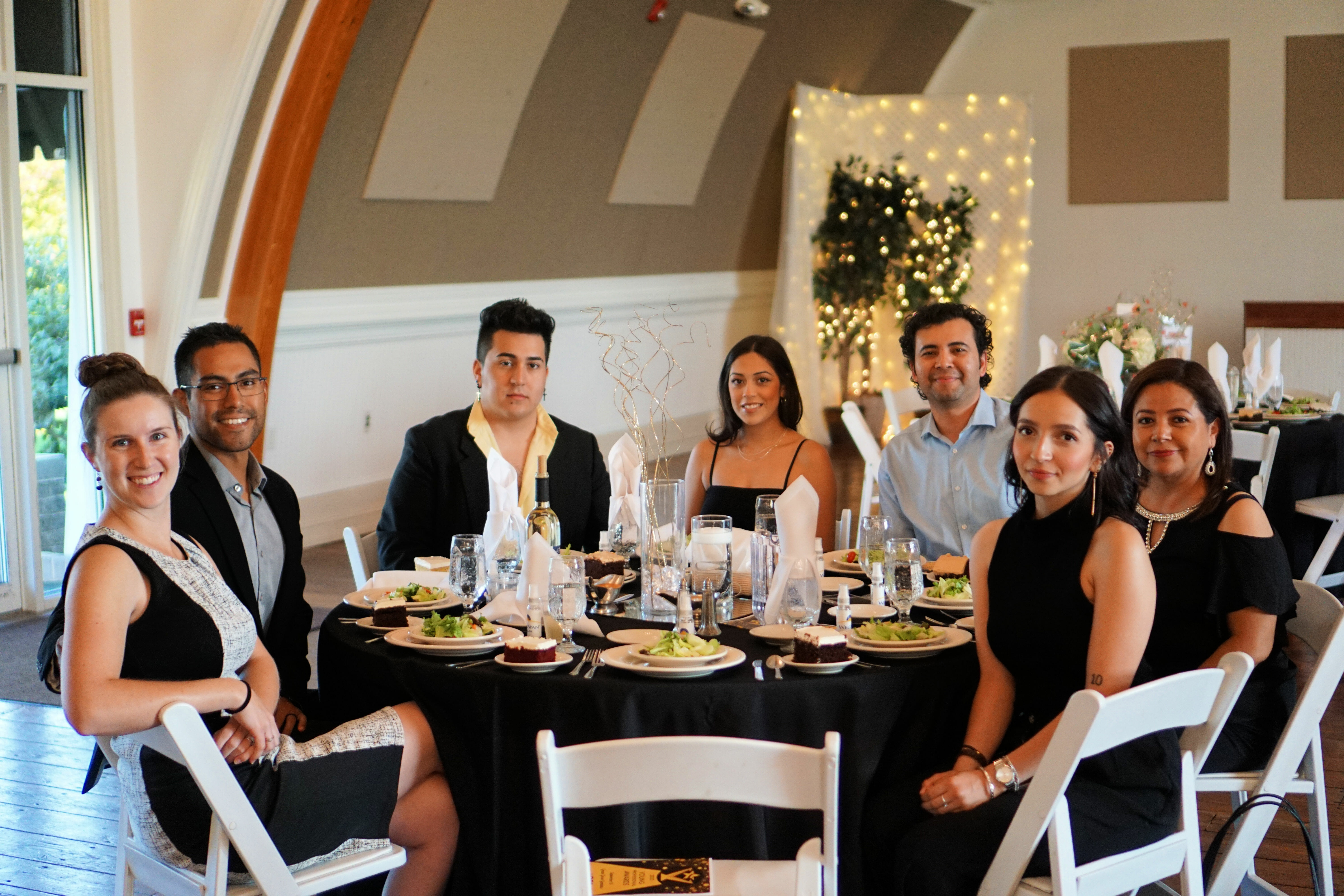 Samantha Ecke, owner of Milk Bath located in Chambersburg, accepted the international ATHENA Young Professional Award. The award honors an emerging leader who demonstrates excellence, creativity and initiative in their business or profession, and serves as a role model for young women personally and professionally.
Ecke focuses on selling high-quality goat milk soap products. She also helps other small women owned businesses with branding, marketing and other business-related questions. Community members often turn to Ecke when they are starting their own business and need assistance on how to file for taxes or apply for business licenses.
Ecke is often seen around the community, helping Downtown Chambersburg Inc. with supplying food truck vendors, giving lectures at Wilson College or participating with Downtown Business Council in Chambersburg.
Runners-up for the ATHENA Young Professional Award were Jessica Brindle of Boys & Girls Club of Chambersburg & Shippensburg and Monica Diehl of Keystone Health.
Also presented during the ceremony were the following awards:
Educator of the Year: Matthew Wedd, Conococheague Institute
This award recognizes an individual under 40 in the education field who has gone above and beyond to have a positive impact on those they teach.
Matthew Wedd teaches public and homeschool students of all ages who visit The Conococheague Institute. He has presented information at local schools and YMCA summer camps while welcoming more than 700 paying participants to the Institute. He played an instrumental role in the creation of weekly free lessons on gardening, home life, cooking, mending, fashion and leisure in the 1700s.
Wedd also helped the Institute receive a grant this year. The Institute purchased 18th century clothing and created an immersive two-week program called "Can You Live in the 18th Century?" Nine students from Mercersburg Academy attended the program, which had a life-changing effect on the students and faculty involved. The week included cooking over open fire, chores, exploring philosophies of the 1700s, mock trials and leisure activities.
Runners-up for the Educator of the Year award were Emily Trace, a teacher at Greencastle-Antrim School District, and Sarah Yassine, teacher at the Chambersburg Area School District.
Young Professional Employer of the Year: Rodney B. Smith Plumbing, Heating & Cooling, Inc.
The Young Professional Employer of the Year award recognizes a local organization that is devoted to the advancement of their young professionals.
Tyler Smith, owner of Rodney B. Smith Plumbing, Heating & Cooling, Inc., helps steer the family business in the right direction. The company has approx. 35 employees and continually invests in their training while sponsoring numerous events. It also donates supplies, volunteer hours, playground equipment and more to local schools.
Runner-up for Young Professional Employer of the Year was the Boys & Girls Club of Chambersburg & Shippensburg, represented by Jessica Brindle.
Entrepreneur of the Year: Matt Baer, First Due Lawncare and Landscapes
The purpose of this award is to recognize an entrepreneur or small business owner who has grown and developed a sustainable business.

Matt Baer was once a firefighter in Northern Virginia and started First Due Lawncare and Landscapes on the side. In 2020, he left his fire service career to focus all his attention on the lawncare business. Baer ensures his employees have the latest and safest equipment, offers generous wages and benefits to his staff, while providing a great work environment. He also volunteers his services to deserving nonprofits, a symbol of how strong his business and beliefs are in growing the community.
Runners-up for Entrepreneur of the Year were Antonio Cucuzza of Avocado Cafe and Samantha Ecke of Milk Bath.

Nonprofit Young Professional of the Year: Leigh Elliott, South Central Community Action Program
The purpose of this award is to recognize a nonprofit employee who demonstrates excellence in their work and dedication to their organization and its mission.
Leigh Elliott started her career working at the Franklin County Jail as a correctional officer. She then worked as a case manager at the Franklin County Day Reporting Center. Today, she is the Franklin Together Coalition Coordinator. The Reentry Coalition was formed in 2016 to provide support to justice involved individuals with a smooth transition back into the community. Elliott is responsible for all the functions of the coalition including coordinating and attending all meetings, updating the website, tracking donations and the yearly membership drive. She has met the goals set each year, even doubling the goal from year to year.
Runners-up for Nonprofit Young Professional of the Year were Jessica Brindle of Boys & Girls Club of Chambersburg & Shippensburg and Jessica Vizecky of Eve's Victory.
Rising Star Award: Nate Milgrim, Ledo Pizza
The purpose of this award is to highlight an individual who has shown tremendous potential in their field.
In the first year of Ledo Pizza operating in Franklin County, Nate Milgrim has worked tirelessly to help the business thrive. Originally hired as the general manager, Milgrim quickly rose to regional manager, overseeing multiple restaurants in the tri-state area. He helps train and advance current managers, seeking out classes and management books to share with others. Milgrim is responsible for Ledo Pizza's Feed the Front Line Workers initiative, where meals were donated to crews that support and care for our community. He is a father of three and still makes the ever-coveted work/life balance look easy, taking his family to Hershey Park, Disney World and other attractions.
Runners-up for the Rising Star Award were Charles "Chaz" Timmons of PDM Insurance Agency and Heather Hockenberry of Hockenberry Management Consulting.
Volunteer of the Year: Morgan Engel, Shafer Equipment Company
The purpose of this award is to recognize a young professional who has dedicated significant time and resources to serving the Franklin County community.
Morgan Engel has been a voluntary member of the CVBA Ambassadors for over two years. She volunteers her time to help at mixers, visit with business members, attend ribbon cuttings, deliver member plaques and more. She also runs the Ambassador's "Giving Back to Our Community" event initiatives. In December, she helped organize the first Angel Tree Project with the Ambassador group and Franklin Together Reentry Coalition. Various gifts were provided to women at the House of Hope and Gracie's place, in addition to clothing and toys for their children. The donations supported mother and child to ensure they received a meaningful gift for Christmas.
Engel is also a board member of the Boys & Girls Club of Chambersburg and Shippensburg, volunteering at many of their events. She is an outstanding volunteer that is always looking for ways she can help others.
Runners-up for Volunteer of the Year were Cierra Neil of Boyer & Ritter CPAs and Consultants and Kacie Meyers of Floor Trader Outlet of Chambersburg.
Special thanks to this year's Young Professional Awards sponsors: