Beside the Point: Printaway
Printaway is your local full-service printer with in house printing and access to a host of vendors to provide you with endless marketing and advertising items. 
We first opened our doors in downtown Chambersburg on North Main Street and then moved to 29 South Main Street, where we remained for the next 44 years. In 2018 we outgrew our location on South Main Street and in March of 2019 we relocated to 170 Mill Road in Chambersburg. Our new location is still convenient to downtown and offers plenty of free parking. With the move we were also able to expand even more to offer additional in-house capabilities.
Owners Fred and Lynette Kuhn split their time between the 3 businesses they own, Printaway, LA Cameras and Bream's Print Shop in Gettysburg. All locations are staffed with local people. The staff has years of experience in the printing industry and customer service.
We have provided personalized attention and the highest quality service to our clients for over 49 years. Whether you need help wanted signs, envelops, business cards, brochures, flyers, menus, posters, banners, yard signs or advertising specialties, we can help.
Franklin County and the surrounding area is an important market for us. Our staff stands ready to meet your printing and marketing needs. Now, more than ever, it is important to partner with a printer that will provide you with creativity and guidance as it relates to you and your business. Our unique insight stems from taking the time to listen, evaluate each situation, anticipate needs, and identify opportunities. The result is an unmatched level of knowledge and expertise for our clients.
Let us be your local creative printing partner!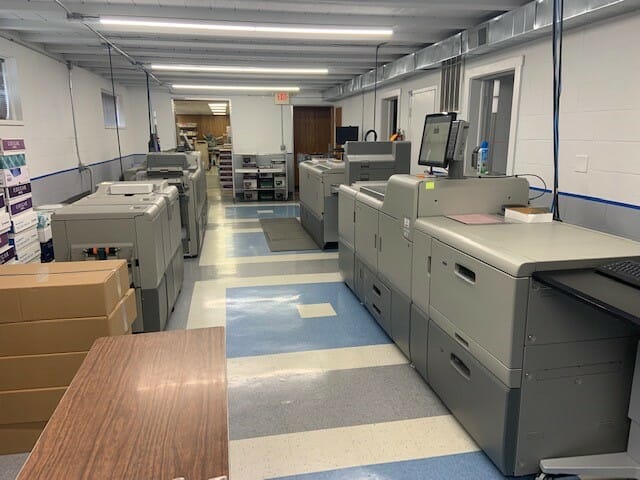 Beside the Point is a member spotlight opportunity reserved for Cumberland Valley Business Alliance members at the Advocate, Champion, Visionary and Stakeholder levels. If you're interested in upgrading your membership, please contact Jordan Nace at jnace@chambersburg.org.
Content submitted by members of the Cumberland Valley Business Alliance (CVBA) may contain advertisements and/or links to third party sites. CVBA does not endorse nor advocate for the advertised product, event, service or company, nor any of the claims made by the content and takes no responsibility for promises made or the quality/reliability of the products/services offered.