Member Spotlight: Aura Properties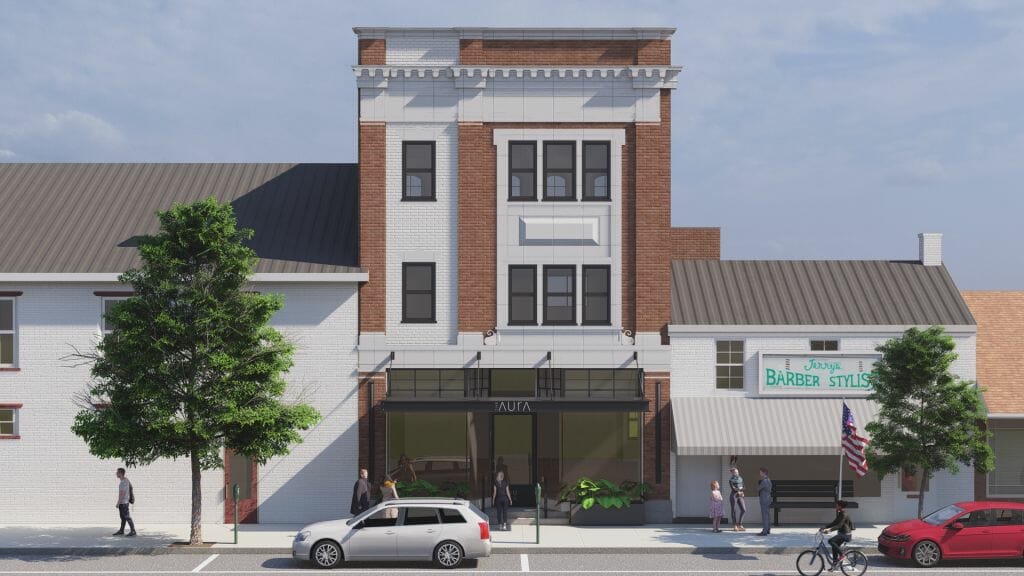 The Aura Building is an entrepreneurial hub located in the heart of downtown Greencastle. Originally Carl's Drug Store and most recently the home of ELM Department Store's women's department, this 106-year-old building is a staple landmark in the Greencastle community.
Laura & AJ Wallace, owners of Worx & Co – a branding studio, purchased the building last year with the vision to transform the building into a three-story entrepreneurial hub. The space is under construction and is currently hosting Pop-Up Shops featuring local small business owners with dates coinciding with other popular downtown events including 3rd Saturday in the Square, Sidewalk Days and Old Home Week.
Upon completion, the first floor will house retail space for lease, the second floor will have a multi-use space that can be used for co-working and small events such as workshops, classes or meetings. The third floor is the future home of Worx & Co and The Gutsy Podcast. Learn more about the building, co-work space, first floor rental and pop-up shop events at TheAuraBldg.com.
Aura Properties is located at 6 E. Baltimore St. in Greencastle and is an active member of the Cumberland Valley Business Alliance. For more information about joining CVBA, please contact Membership Director Jordan Nace at jnace@chambersburg.org or call 717-264-7101.