Local Businesses Celebrated For Property Improvement Awards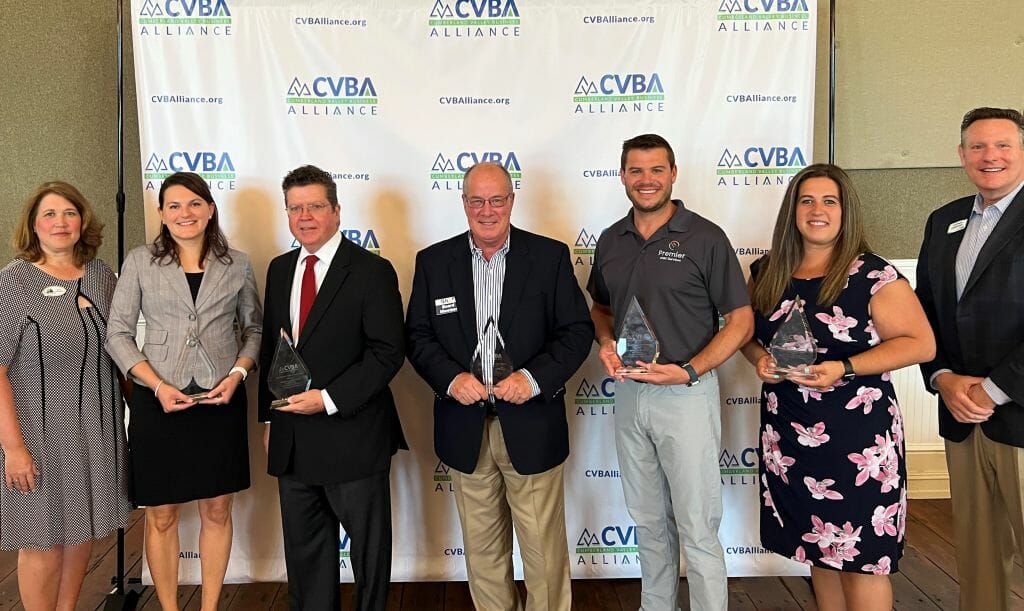 The Cumberland Valley Business Alliance (CVBA) hosted the Economic Development Breakfast at Green Grove Gardens on Thursday, July 21. The event, sponsored by F&M Trust, recognized six businesses for their property improvements accomplished in 2021.
The winners were recognized for outstanding real estate improvements. Franklin County Housing Authority won in the category that included up to $150,000; The Barrel House for $150,000 to $500,000; Greencastle-Antrim Education Foundation for the Kaley Field Project for $500,000 to $1M; Premier HVAC Services for $1M to $5M; Franklin County Government for the Franklin County Judicial Center for $10M and up; and Zoeller Real Estate Company for Historic Preservation.
Mike Ross from Franklin County Area Development Corporation was the keynote speaker, with Steve Christian from the Greater Chambersburg Chamber of Commerce, Jocelyn Melton of the CVBA board and Debby Cunningham from Greencastle-Antrim Chamber of Commerce announcing the winners and Bill Kick, chair of the CVBA Board of Directors, emceeing.

Laura Wallace of Aura Properties shared a future perspective for downtown Greencastle and Sam Thrush of Downtown Chambersburg, Inc., shared an update on Chambersburg.

"Congratulations to our winners this year. All have shown exceptional work that is vital to the development of the Cumberland Valley. We appreciate their hard work, dedication and determination to follow through with these projects and to see the potential of our region," Christian said.
Special thanks to the Table sponsors including Blue Spring Egg Farm – Herbruck's Poultry Ranch Inc.; Boyer & Ritter; Franklin County Government; Herbert, Rowland & Grubic, Inc.; Keystone Health; Manitowoc Cranes; Noelker & Hull Associates, Inc.; Patriot Federal Credit Union; SEK, CPAs & Advisors; Shafer Equipment Company; and Wilson College.
For more information on the event or to nominate for next year's awards, email debby@greencastlepachamber.org or call 717-597-4610.
The Cumberland Valley Business Alliance is a partnership between the Chambersburg and Greencastle-Antrim chambers of commerce. CVBA is the largest business advocacy organization in Franklin County with more than 850 members. It is committed to the prosperity of its members while enhancing the quality of life in the Cumberland Valley area. For more information, visit CVBAlliance.org.