Beside the Point: Schultheiss & Associates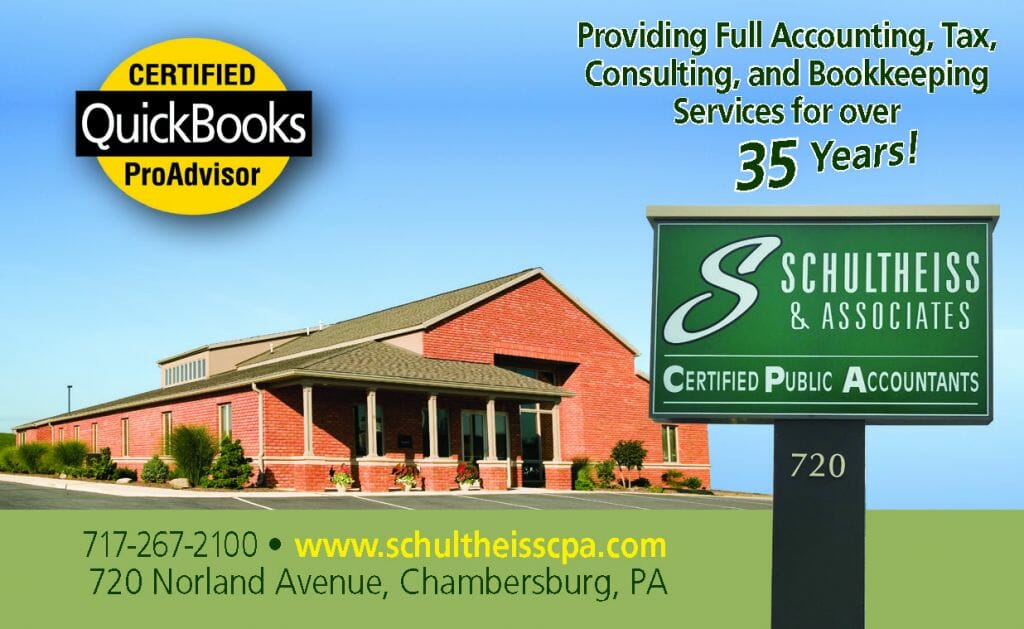 Schultheiss & Associates is a full service certified public accounting firm located in Chambersburg, PA. We have provided quality accounting, tax preparation and business consulting services to our clients for over 35 years. We have the expertise to provide complete financial services to individuals, large and small businesses, as well as government agencies and non-profit organizations.  Our firm provides outstanding service to our clients because of our dedication to the three underlying principles of professionalism, responsiveness and quality.
In addition to the services listed, we also provide the following services:
Tax Preparation
Tax Planning
Preparation of Audits, Reviews, Compilations
Tax Problems Solved
Small Business Accounting
Payroll
QuickBooks Services – Installation and Training
Part-Time CFO Services
Cash Flow Management
Assistance with Bank Financing
Business Valuation
Strategic Business Planning
New Business Formation
Non-Profit Organizations
Internal Controls
Our fees are not fixed by the accounting profession. They are based on the time and expertise required for each engagement. Our objective is always to give you as much value as possible at an affordable price. In addition, we encourage you to discuss fees with us at any time.
Our regular office hours are 8 a.m. to 5 p.m., Monday through Friday. Evening and weekend appointments are also available as needed. Please contact us for more information about our services and how we can, personally, assist you.
Schultheiss & Associates
720 Norland Avenue
Chambersburg, PA 17201
717-267-2100
Beside the Point is a member spotlight opportunity reserved for Cumberland Valley Business Alliance members at the Advocate, Champion, Visionary and Stakeholder levels. If you're interested in upgrading your membership, please contact Jordan Nace at jnace@chambersburg.org.
Content submitted by members of the Cumberland Valley Business Alliance (CVBA) may contain advertisements and/or links to third party sites. CVBA does not endorse nor advocate for the advertised product, event, service or company, nor any of the claims made by the content and takes no responsibility for promises made or the quality/reliability of the products/services offered.