Leadership, Innovation & Volunteerism Recognized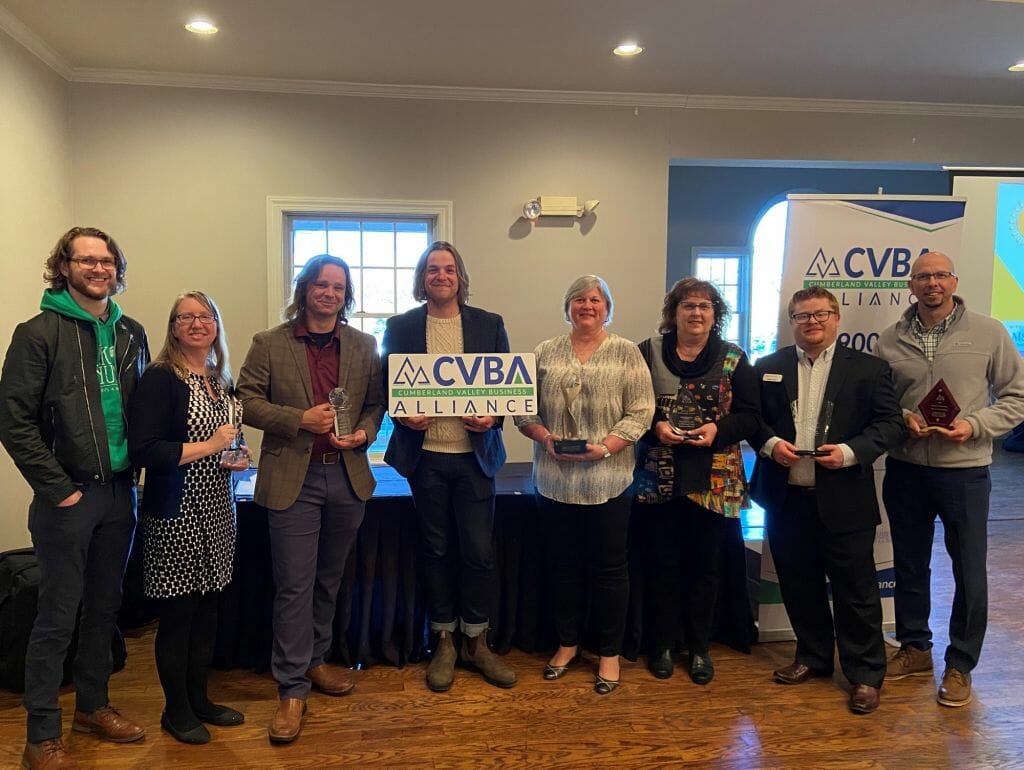 More than 200 business and community members of the Cumberland Valley Business Alliance (CVBA) gathered to honor individuals and businesses for their outstanding achievements at the CVBA Awards Breakfast, sponsored by M&T Bank, this morning.
"We are proud to honor our business and community leaders this morning for their exceptional contributions," said Bill Kick, chair of the CVBA Board of Directors. "We are blessed to have so many people invested in our area who are always seeking to improve the quality of life in our community."
Held at the Chambersburg Country Club, the sold-out event included seven awards and a keynote presentation by Jesse McCree of SCPa Works. McCree discussed the current labor environment as well as the impact of the growing "sansdemic." He concluded by addressing the workforce skills that will be needed in the future as many positions become remote or automated to combat the shrinking number of people available to fill jobs.
Carla Christian, executive director of Chambersburg Memorial YMCA, accepted the International ATHENA Leadership Award, which was sponsored locally by Jennings Chevrolet, Buick, GMC and F&M Trust. The award honors an individual who exemplifies professional, community and personal leadership as well as someone who actively assists women in reaching their full leadership potential and/or personal and professional goals.
Christian has served in various capacities at the Y since 2001 and faithfully led the organization through the pandemic. From seeking additional funding and keeping the Y operating to organizing food drives, supply drives and blood drives, she has sought to strengthen the community. She also serves as a role model to the Y's female program directors and encourages them to seek opportunities for growth.
She is actively involved in community organizations and serves on several boards including the Chambersburg Chamber of Commerce, Healthy Franklin County, Healthy Franklin County Leadership Advisory Committee and Racial Reconciliation, which promotes diversity within Franklin County. Since 2020, she has served on the board of trustees at Central Presbyterian Church.
Also presented during the ceremony were the following awards:
Innovator of the Year: Franklin County Library System
The Franklin County Library System was honored as the Innovator of the Year for their free Wi-Fi to the Fort Loudon, Pa. community. The free Wi-Fi system was spearheaded by the Library and made possible thanks to the partnership and funding from Community State Bank, Trinity United Church and a generous Waynesboro resident. The area had been without access to public Wi-Fi since 2019. The Wi-Fi was installed in 2021, and the library hopes to earn additional donations to continue covering the internet costs and hopefully expand the service.
Nonprofit of the Year: Conococheague Institute
Conococheague Institute was recognized as the Nonprofit of the Year for its innovations and community collaboration that has contributed to the prosperity of Franklin County. Based in Mercersburg, Pa., the Institute is a hands-on regional learning center focused on the cultural and natural resources of the Appalachian frontier. They seek to educate and preserve the history of the 18th Century frontier with engaging experiences. The Institute grounds are open to the public, historic programs are held weekly and many organizations have partnered with them to accomplish their preservation goals.
Spirit of the Community: Dr. Kim Eaton
Dr. Kim Eaton was recognized for her tireless and unselfish commitment to improving the quality of life in the Cumberland Valley beyond the role of her career. She works with the Franklin Together, reentry coalition and supports other task forces focused on housing, barrier relief and sustainability. She is actively involved with community organizations to strengthen the youth including Leadership Franklin County Youth and the Youth Aid Panel. She is an important and caring person to many and was the recipient of the Spirit of the Community award.
Emerging Business Leader: Nathan Neil
Nathan Neil was recognized as the Emerging Business Leader for his pursuit of career excellence while also making valuable community contributions. He owns three growing businesses including LaunchUX LLC, Franklin County Free Press and SoLinkit. In just five years, Nathan has grown LaunchUX from a concept to a thriving sustainable business with a growing workforce. Nathan is deeply involved in the community and volunteers with Friends of Cowans Gap State Park and Penn State Mont Alto's LaunchBox. He belongs to local business organizations, including CVBA and BNI – Greencastle, and mentors students looking at a career in business, technology or journalism.
Event of the Year: Greencastle Christmas Parade
The Greencastle Christmas Parade, hosted by VerStandig Media, received the 2021 Event of the Year award. This incredible event had 83 participating groups from businesses and tractor clubs to fire departments and marching bands. The parade's objective is to help the community, bring awareness to the area's products and services as well as spread Christmas cheer.
Employer of the Year: GDC IT Solutions
The Employer of the Year award was given to GDC IT Solutions for its workplace policies, support of employee training, job development and positive employee testimonials. GDC offers great opportunities for its employees in all departments including sales, administration, human resources and the various technical teams. The company takes great pride in personal and career driven growth for all their employees. GDC has demonstrated through its employee retention and team testimonials that it offers an outstanding environment for its employees to thrive.
Special thanks to this year's CVBA Awards Breakfast sponsors:
Grand Sponsor: M&T Bank
ATHENA Leadership Award Sponsors: F&M Trust, Jennings Chevrolet, Buick, GMC
Table Sponsors: 1st Ed Credit Union, ACNB Bank, Boyer & Ritter, LLC, F&M Trust, GDC IT Solutions, Herbert, Rowland & Grubic, Inc., LaunchUX LLC, Patriot Federal Credit Union, SEK, CPAs & Advisors
Patron Sponsors: Community State Bank, Cumberland Valley School of Music, Decorating Den Interiors, First Due Lawncare and Landscapes, LLC, Franklin County Area Development Corporation, Franklin County Visitors Bureau,* Healthy Communities Partnership of Greater Franklin County, Manpower – Central PA, Newcomer Associates architecture + engineering, Penn National Insurance, Providence Place Senior Living, Quincy Village/Presbyterian Senior Living, Triad Engineering, Inc. *denotes two sponsorships
The Cumberland Valley Business Alliance is a partnership between the Chambersburg and Greencastle-Antrim chambers of commerce. CVBA is the largest business advocacy organization in Franklin County with more than 850 members. It is committed to the prosperity of its members while enhancing the quality of life in the Cumberland Valley area. For more information, visit CVBAlliance.org.