F&M Trust Donates $25,000 to The Salvation Army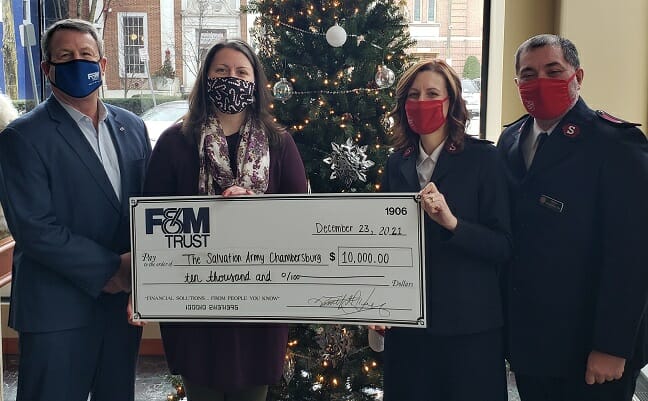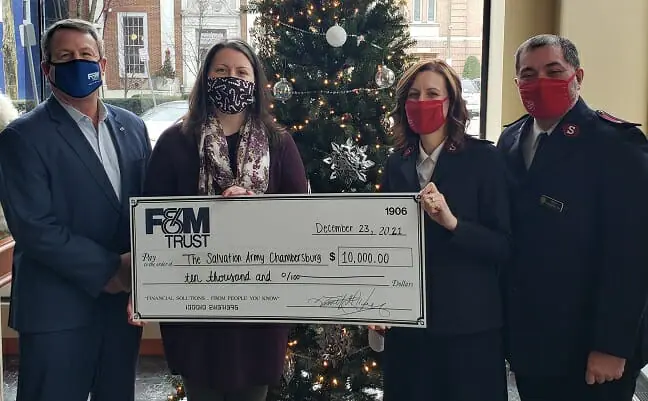 F&M Trust recently announced a donation of $25,000 to The Salvation Army in South Central Pennsylvania. Corps in Chambersburg, Carlisle, and Harrisburg will receive the funds as part of the bank's continued commitment to provide COVID relief.
"F&M Trust makes these donations knowing that The Salvation Army helps so many in our communities, especially in challenging times such as these," said Tim Henry, President & CEO of F&M Trust. "Through food pantries, thrift stores, shelters and more, The Salvation Army provides for those experiencing life's difficulties. We are pleased to contribute to those efforts."
Captain Chris Mauk of the Chambersburg corps said the donation will help to provide emergency crisis assistance through a variety of initiatives and to fulfill The Salvation Army's mission of meeting human needs without discrimination, any time, any place, and anywhere.
"It is through donations that we are successful in helping some of our neediest neighbors throughout the year with a wide variety of services and programs for all ages," Mauk said. "This generous gift is desperately needed, and it will lift people up and provide hope for the future."
Lauren Sheeler, Resource Development Officer for The Salvation Army Harrisburg Capital City Region, said the corps is serving three times the number of households through the Choice Food Pantry than it did prior to the COVID-19 pandemic and has implemented new programs within the last year to combat learning loss in children and to provide rental assistance to keep families in their homes.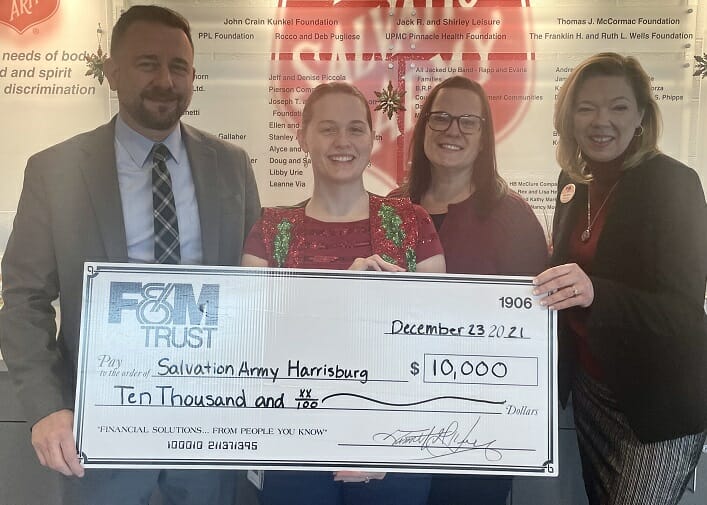 "We are so thankful to F&M Trust for helping us assist local families," Sheeler said. "Not only will this gift benefit our community this month through our Christmas assistance programs, it will also have an impact throughout the year as we work with families that have been negatively impacted by COVID-19."
The donation to the Carlisle corps will help to provide meals through My Brother's Table, which operates seven days a week, and to support housing programs for women in the Stuart House and men in the Genesis House.
"We are grateful to F&M Trust for this donation. We would not be able to provide services to the greater Carlisle community without such generosity," Captain Oziel Urbaez said.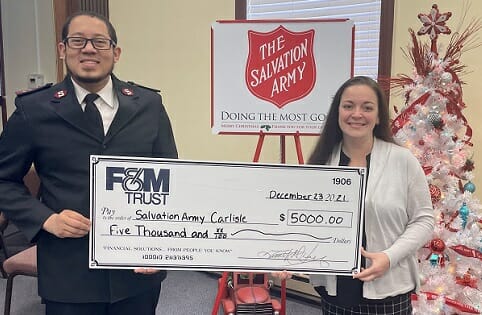 Since 2020, F&M Trust has donated more than $200,000 to local schools, healthcare facilities, and community organizations to assist with COVID relief efforts.
About F&M Trust: A subsidiary of Franklin Financial Services Corp., F&M Trust is an independent community bank headquartered in Chambersburg. With approximately $1.7 billion in assets, F&M Trust has 21 community-banking locations in Franklin, Cumberland, Fulton, and Huntingdon counties.
F&M Trust is a Stakeholder member of the Cumberland Valley Business Alliance. Thank you for your support!