Wilson College helps Habitat for Humanity with its 50th home in Franklin County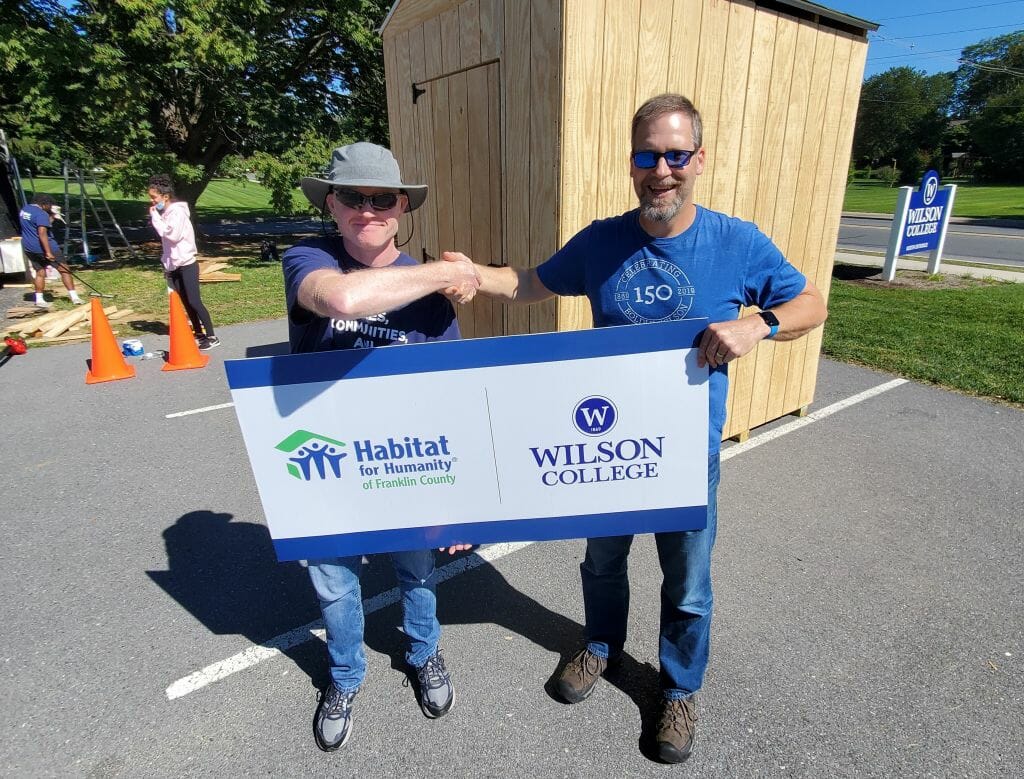 Volunteers aged 18 to 80 turned out to build a shed to complete a family's new home in Franklin County, Pa. The collaboration between Wilson College and Habitat for Humanity of Franklin County (HFFC) was the brainchild of HHFC's Mark Story and Wilson's Rev. Derek Wadlington.
Story, HHFC's community engagement director, read an article about Rev. Wadlington's work with student volunteers in "Wilson Magazine." Always on the lookout for potential collaborators, Story's interest was piqued by Wadlington's goal of having students engage in community actions and help nonprofit organizations.
Story contacted Wadlington about renewing or reinventing the relationship between the college and HHFC. Historically, Wilson College had a partnership with HHFC, including having a Habitat chapter on campus during the tenure of Wadlington's predecessor Rev. Rosie McGhee. But between one thing and another, interest had waned, and the chapter had disbanded.
Wadlington was enthusiastic. He considered HHFC an ideal organization to connect his student volunteers with the wider community. For both men, the inspiration and motivation were to connect people with one another through actions that build communities, make a difference, and work for the common good. All they had to do was come up with a project to get the ball rolling.
At the time, HHFC was completing their 50th home in Franklin Co. Having Wilson students volunteer their time on this project was the obvious first choice. Wadlington would bus students to the site of the home under construction, and HHFC would train them in construction techniques—the traditional Habitat use of volunteers. Unfortunately, thanks to COVID-19 restrictions, that was not possible.
The men were not deterred. If they couldn't bring Wilson to Habitat, Story wondered, could they bring Habitat to Wilson? He suggested building a shed on campus and delivering it to the home once completed. Wadlington replied, "I don't have permission to say this, but YES! YES! YES!" Thus, the "Shed Some Light" project was born.
For one week, a parking lot on Wilson's campus became a construction site for the shed. "We had a steady stream of volunteers," Story said. "Then one afternoon, the softball team showed up, and suddenly we had more than 18 people there all trying to work on this little shed at the same time. It was a bit overwhelming, but we managed."
HHFC's mission is not just to build homes for deserving families but to bring volunteers together and teach them some construction techniques. "We brought a nail gun," Story said. We could have done it all by hand with hammers, but we wanted to teach something new."
The shed was completed with the help of many students, staff, an 80-year-old alumna, and even Wilson College President Wesley R. Fugate, then delivered to the home HHFC had built. Wadlington said, "I love that our community built a shed that will be part of Habitat's 50th build – it provides a tangible, long-lasting connection between Wilson and the community."
Half the materials were paid for out of Wilson's Chaplain's funds. According to Story, the other half was given by an anonymous donor who "is someone very close to Wilson." The shed was transported to the home free of charge thanks to Esh's Storage Barns.
Wadlington and Story see this as the first of many projects Wilson College and HHFC do together. "Will we build more sheds at Wilson? Probably," Story said. "Will there come a day when Wilson students can pile in a van and come to work at a Habitat site? Hopefully."