Habitat for Humanity partners with Buchanan Auto Sales and VerStandig Media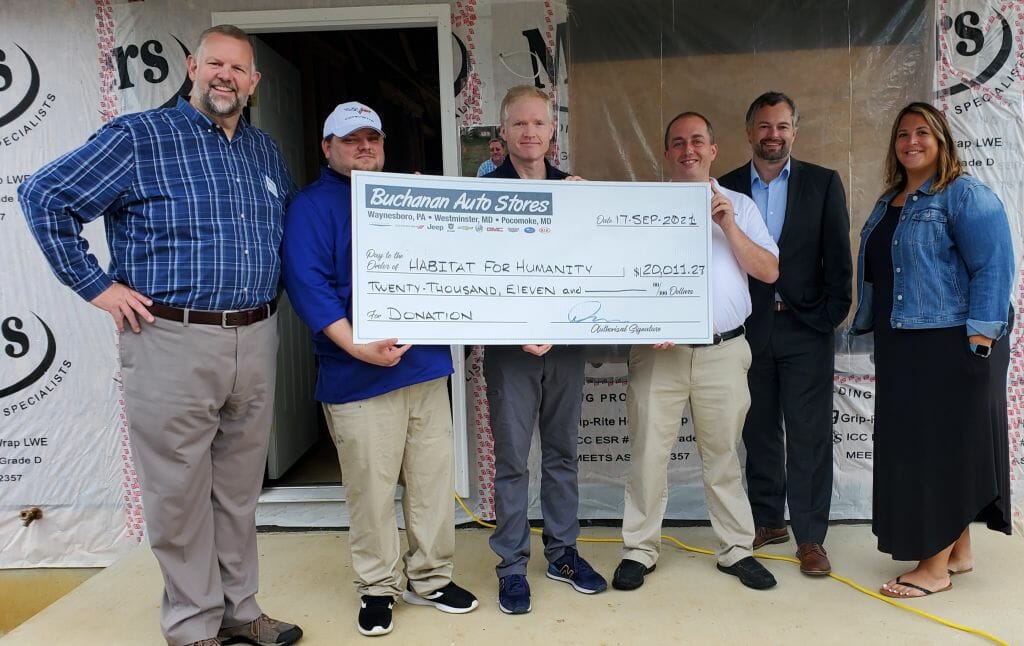 Habitat For Humanity of Franklin County is pleased to announce that a partnership with VerStandig Media and Buchanan Auto Stores resulted in a $20,000 cash contribution to Habitat through a shared radio promotion.
VerStandig Media, home of 104.7 WAYZ, 101.5 Bob Rocks, 92.1 The Goat, and 100.9 The Line, invited radio listeners over a five-week period to donate toward Habitat for a chance to win a vacation getaway sponsored by Buchanan Auto Stores. Buchanan also offered a cash contribution to Habitat for every vehicle sold over the same five weeks. $611.27 was given by radio listeners and Buchanan sold enough vehicles to contribute $19,400 for a combined total of over $20,000.
Habitat Executive Director Tom Reardon notes, "This gift is more than sufficient to cover the costs associated with pouring the foundation of our 50th Habitat house being built by volunteers in Fayetteville." Mark Story, Community Engagement Director, says, "Bringing people together is central to the mission of Habitat. This partnership with Verstandig radio listeners and Buchanan is a great example of our generous community working together and we are so grateful." Mike Svoboda, General Manager for Buchanan, shared, "I experienced a house fire a while ago and I know how important having a home really is. Buchanan is happy to be a part of Habitat For Humanity."
About Habitat for Humanity of Franklin County: HFHFC was formed in 1993 and to date has served more than 125 low to moderate income individuals and families in Franklin County and around the world. This helps to achieve Habitat's vision of "A world where everyone has a decent place to live" and ensure there is adequate affordable housing stock in Franklin County for everyone to live, work, worship, and play. To learn how you can make a difference in our local community through Habitat contact the office at info@habitatfranklinpa.org or 717-267-1899. The office is located at 1502 Lincoln Way East in Chambersburg.
Thank you Habitat for Humanity of Franklin County, VerStandig Media and Buchanan Auto Stores for your membership in the Cumberland Valley Business Alliance!