CADC Partners with Habitat for Humanity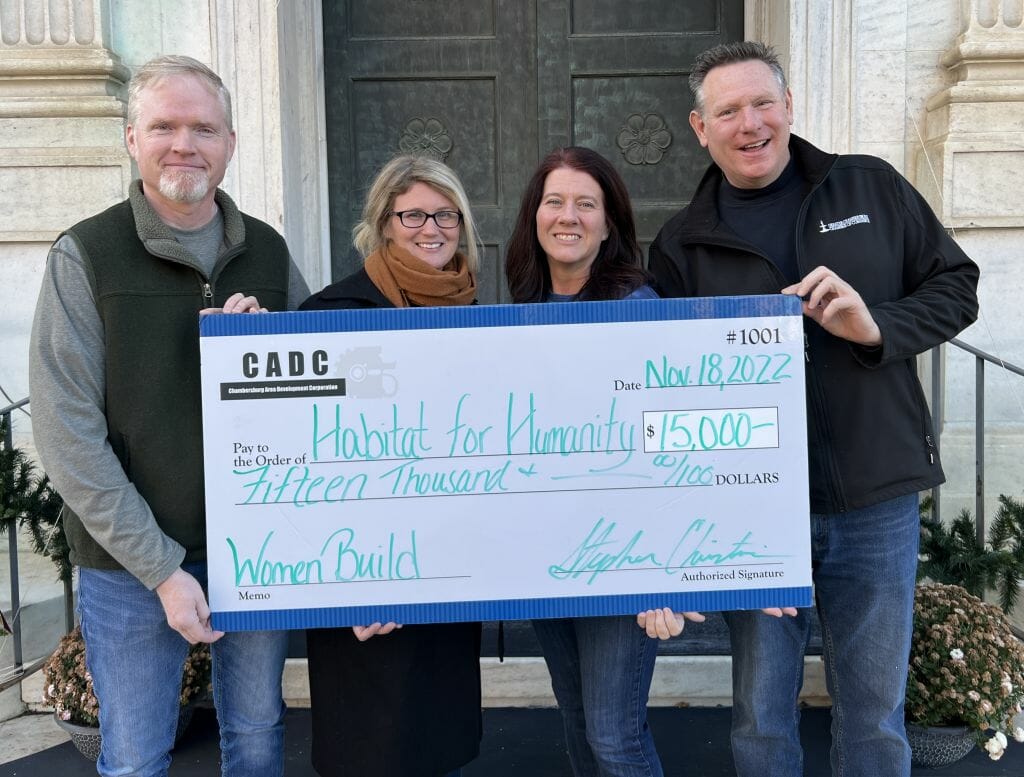 Habitat for Humanity of Franklin County is pleased to announce that a lead gift for 'Women Build' has been secured from the Chambersburg Area Development Corporation in the amount of $15,000.
Women Build is a nationally branded Habitat program that will be implemented in Franklin County in 2023. Mark D. Story, Community Engagement Director with Habitat, shares, "The goal of Women Build is not the exclusion of men, rather it is an intentional effort to create an inclusive environment where women feel comfortable and confident at the Habitat jobsite." A leadership team of women has been meeting monthly since June of 2022 and are focusing on three areas: Marketing, Volunteers, and Construction.
The Women Build home will be a single-detached rancher on Warm Spring Rd in Chambersburg. Story continues, "The Women Build project will begin with groundbreaking in March of 2023 and should not be confused with the current Habitat project already taking place on Warm Spring Rd near the South Hamilton Ballfield. The Women Build home will be constructed immediately to the North of the project our volunteers are already building."
Angela Schaeffer, Director of Operations with the Greater Chambersburg Chamber of Commerce, first approached the Chambersburg Area Development Corporation (CADC) about making a donation to Habitat for Women Build. Angela, who volunteered with Habitat for the very first time this year noted, "I didn't know what to expect coming on to the site that morning but I enjoyed it and liked being part of something bigger. It really doesn't get any better than when you can volunteer to help others and at the same time see real improvement in yourself."
The CADC board responded enthusiastically to Women Build by way of this generous gift and are challenging their lifetime members to themselves donate to Habitat for the 2023 project.
Habitat was formed in 1994 and to date volunteers have built or rehabbed 52 homes in Franklin County. These homes are sold at no profit to moderate income families in Franklin County and financed with a zero % interest loan. This helps to achieve our vision of "A world where everyone has a decent place to live" and ensures there is adequate affordable housing stock in Franklin County for everyone to live, work, worship, and play. To learn how you can make a difference in our local community through Habitat contact the office at info@habitatfranklinpa.org or 717-267-1899. The office is located at 1502 Lincoln Way East in Chambersburg.